CONDTROL Roto HVG
Vendor code: 7-2-001
Warranty: 36 months
User manual
Here is the most accurate, powerful, robust and water-proof rotary laser – CONDTROL Roto HVG which operating range is 600 m.
Outstanding technical specs of this rotary laser combined with innovative technologies as well as wide functionality will be highly appreciated by specialists in construction industry, surveying and landscape design. This reliable, robust and precise laser will take its rightful place among other tools.

The first among equal
CONDTROL Roto HVG is one of the best rotary lasers in its price segment and compares favorably with analogs with regards to advantages so important for professionals:
• Very high accuracy — ± 0,09 mm/m
• Metal cap for protection of the laser.
• Protection rate IP67.
• 4 handles for comfortable work and protection.

Green laser
CONDTROL Roto HVG projects green laser lines. Due to spectral sensitivity of a human eye green light is 4 times brighter than red at the same power of diode. Because of this, green laser line is more visible at long distance and the working range of the rotary laser is longer. Laser receiver, included in the delivery package, will help to work in adverse lighting conditions.

Protection rate IP67
Roto HVG is highly protected from dust and water. The housing of Roto HVG has the highest of the current standards — IP 67. Not afraid of dust, dirt and water, this rotary laser is perfect for work at construction site.

Shock resistance and durability
Protective metal cap provides safety to the laser rotating head.
Rubberized plastic housing is anti-slip and shockproof. Control panel is made of wear proof material, that won't crack in cold weather and unglue because of dampness. Buttons infallibly respond to each press, even if the user is wearing gloves.

Easy to use
Rotary laser Roto HVG has intuitive and user-friendly interface. There is no need to leave your workplace to adjust the level manually or set the laser at required angle. Roto HVG is operated by remote control. It also has handy ergonomic handles which make it easy to transport and set the rotary laser.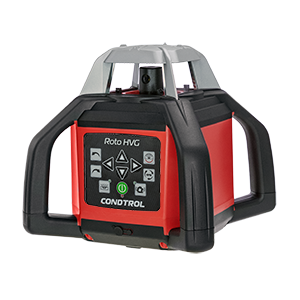 Wide functionality
Roto HVG can perform self-leveling in both vertical and horizontal position. Inbuilt tilt sensor allows to set the inclination within ±10° in 2 axes. Laser dots (zenith and nadir) allow to transfer points from the floor to the ceiling quickly. Laser receiver increases the working range of the rotary laser to 600 m.

For professionals
With Roto HVG the user can monitor excavation of construction pits, leveling of formwork, installation of the ceiling, seamless floor, partitions and other construction and repair works. Rotary laser will be indispensable for construction of intefloor covering and façade of the building, implementation of landscape project designs.

All you need for work
Once purchased, the user won't spend time on search and buying of the right products.
Delivery package of rotary laser includes all necessary accessories. Among them is a mount for laser receiver and glasses that increase visibility of the laser line. But that's not all! Each owner of rotary laser Roto HVG gets original warranty — 3 years of free maintenance service.

Delivery package: rotary laser, battery (4000 mAh SC Ni-MH 1.2 V – 4 pcs.), battery (AM-2 LR14 type С, 1.5 V – 4 pcs.), charger, laser receiver, mount for laser receiver, remote control, laser intensive glasses, magnetic target board, user manual, plastic case.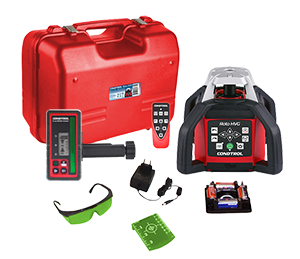 Specifications:
Working Range/with receiver

600m (in diameter)

Leveling accuracy

18" (±0,09 mm/m)

Self-leveling range

±5°

IP protection rate

IP67

Thread for mounting on a tripod

5/8''
Laser

Class II 520 nm < 1 mW

Battery

Rechargeable battery 4 x 4000 mAh SC Ni-MH 1.2 V and alkaline battery 4 x AM-2 (LR14) type С, 1.5 V

Operating temperature

-20 °C ~ +50 °C

Dimensions

206 X 206 X 211 mm

Weight

2.5 kg