CONDTROL Roto HG SET
Vendor code: 7-2-093
Warranty: 36 months
User manual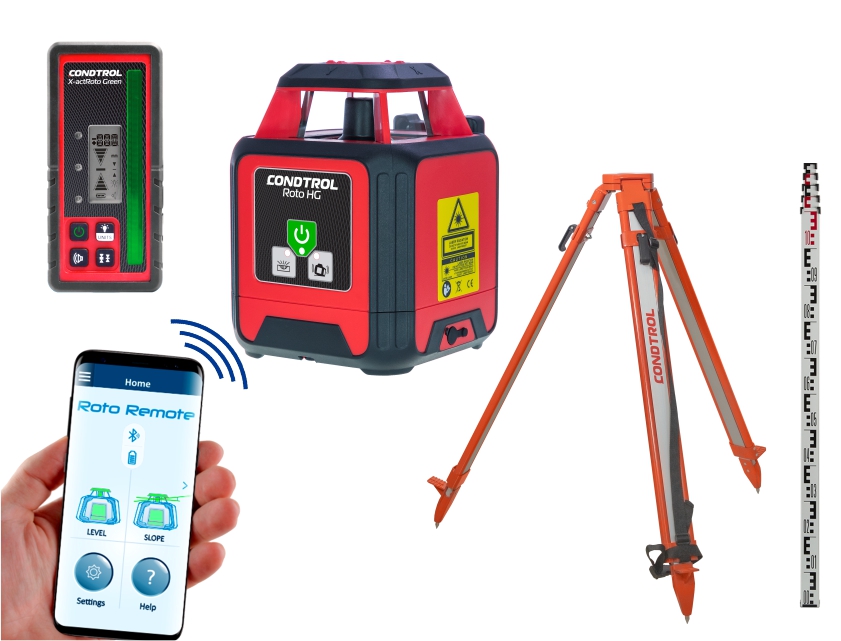 CONDTROL Roto HG SET is a popular set of tools for professional users. With this set there is no need to buy suitable accessories separately. Delivery package includes everything you need for work.

Advantages of CONDTROL Roto HG
Rotary laser Roto HG has a wide range of functions, easy to use and has other significant features important for professional users.
• Remote control by a smartphone via free App.
• Digital laser receiver with millimeter scale.
• Very simple operation. Just 3 buttons!
• Accuracy is 3-times higher than in line lasers.
• Shockproof housing, IP rate — IP55.
• Li-Ion rechargeable battery.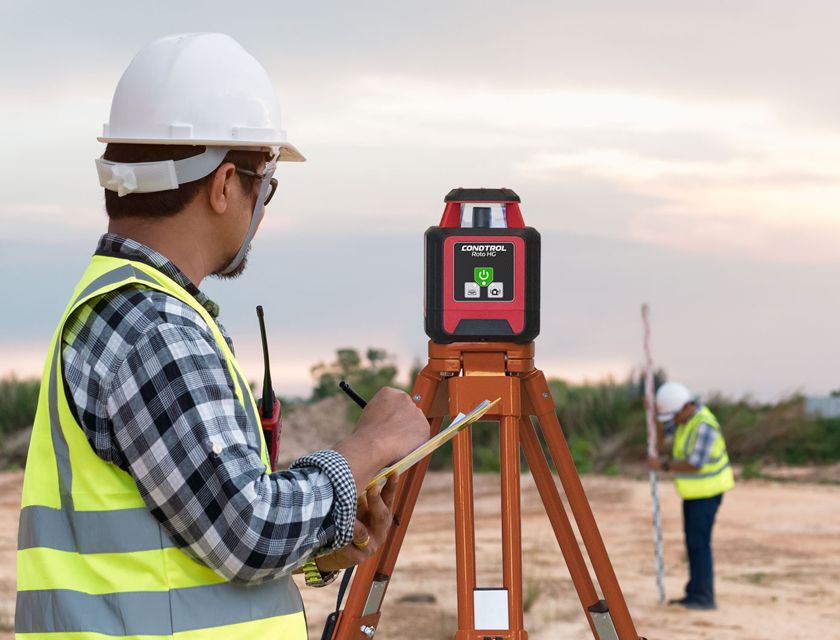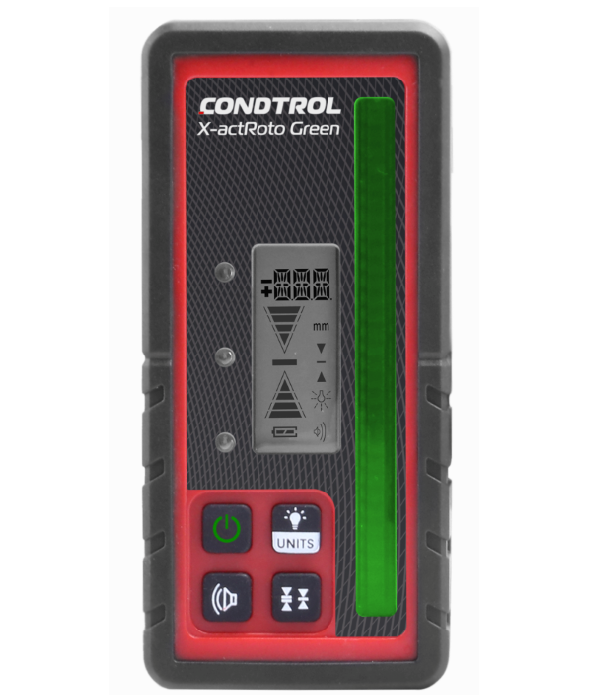 High accuracy digital receiver
Laser receiver X-act Roto with LCD, included in the delivery package, compares favorably with analogs having arrows ↑↓ by a more sensitive sensor (±45 mm from the center) and indication of deviation in millimeters.
Convenient and robust tripod
CONDTROL GEO is equipped with a flat platform to install laser levels and theodolites on it. The clamping screws ensure a secure fixing of the legs. Use an adjustable shoulder strap for comfortable transportation of the tripod.
Leveling staff with millimeter scale
Telescopic aluminum leveling staff CONDTROL TS 5M is an indispensable surveying instrument. Millimeter scale on the back side expands the possibilities of using the staff, as well as compact size and light weight make it convenient and easy to transport.
Handy and universal CONDTROL Roto HG SET will take a worthy place among all your tools.
Delivery package: rotary laser – 1 pc., universal mount – 1 pc., charger – 1 pc., laser receiver – 1 pc., mount for laser receiver – 1 pc., laser intensive glasses – 1 pc., magnetic target – 1 pc., user manual – 1 pc., plastic case – 1 pc., surveying tripod – 1 pc., telescopic leveling staff – 1 pc.


Specifications:
Working Range/with receiver

500 m

Leveling accuracy

30" (±0,15 mm/m)

Self-leveling range

±5°

Battery life

25h

IP protection rate

IP55

Thread for mounting on a tripod

5/8"
Laser

Class II 515-520 nm < 1 mW

Battery

2 x 4000mah Li-ion 7,4V rechargeable battery

Operating temperature

20°C ~ +50°C

Storage temperature

20°C ~ +50°C

Dimensions

150 X 128 X 161 mm

Weight

1,5 kg