CONDTROL Roto HR
Vendor code: 7-2-091
Warranty: 36 months
User manual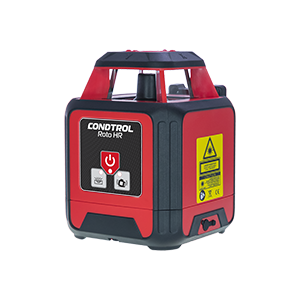 Rotary laser Roto HR is another outstanding novelty in Roto series. This easy-to-use and reliable instrument combines innovative technical solutions and the best traditions of predecessor models designed by CONDTROL. Rotary laser is specially made for use in construction works, repair, and landscape design.

Why this particular rotary laser?
Easy-to-use rotary laser Roto HR has a wide range of functions and other significant features important for professionals.
• Remote control via Bluetooth and free mobile APP;
• Laser receiver with digital scale;
• Totally simple operation. Just 3 buttons!
• 3-times higher accuracy compared to cross line lasers;
• Shockproof, dust- and waterproof housing;
• Li-ion rechargeable battery.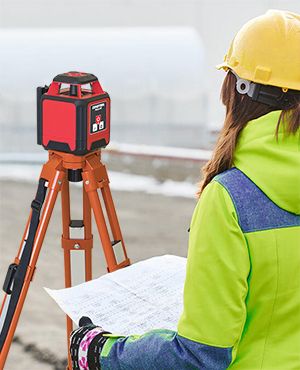 Innovative device control
Roto HR is equipped with Bluetooth for remote control of the rotary laser. It is the only rotary laser on the market with such feature that significantly expands functionality of the rotary laser. The user doesn't have to interrupt the workflow to adjust rotation speed or scanning sector and control operation of the laser. All these functions can be operated remotely via free APP "ROTO REMOTE" installed on your smartphone or tablet. This function will be useful in case the user has no work mate or if the user works remotely from the rotary laser.

High accuracy digital receiver included
Laser receiver X-act Roto with readable sensor range within ±45 mm is included in the delivery package of this rotary laser. It compares favorably with standard receivers with arrows ↑↓.
Thanks to 2-sided LCD and audio indication the user can control the position of laser line on both sides of the receiver housing. This receiver features high IP rate (IP65) and 2 options of mounting:
• Inbuilt magnets for fixing on metal surface;
• Clamp for fixing on leveling staff.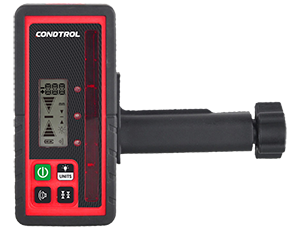 Li-ion battery
With regards to battery life Roto HR is a champion in its price category. This is the only instrument in its class equipped with powerful li-ion rechargeable battery. Capacity of Li-ion is 2 times higher than that of Ni-MH batteries. Li-ion batteries can work under continuous and high loads without losing capacity for up to 35 hours.

Robust and shockproof
Compared to most rotary laser featuring similar technical properties, the build quality of Roto HR is very high. The housing is made of wear-resistant material with shock-absorbing properties. Dust and moisture protection rate is IP55. With such IP rate rotary laser is well protected from dust, water splashes and other negative factors typical for work at construction site.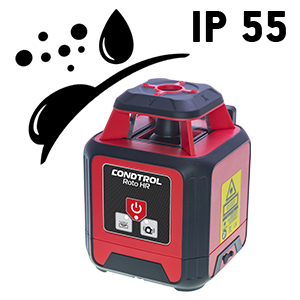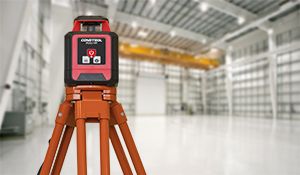 Multifunctional instrument
Rotary laser Roto HR projects a 360° horizontal plane, tilted plane and laser dots (zenith, nadir) to transfer marks from floor to ceiling. Thanks to self-leveling mode there's no need to adjust the position of the rotary laser. Rotary laser allows to set a scanning sector (5 options) and adjust rotating speed (0, 120, 300, 600 rpm). Its operating range – up to 500m in diameter – is optimal for construction works.

Easy to use
It is very simple! There are only 3 buttons to operate this rotary laser. Extra functions are available on mobile APP. Electronic sensors and servo motors ensure automatic leveling of this rotary laser. Two mounting options provide more possibilities for operation with rotary laser. Roto HR can be set on a tripod or fixed on the wall.
Rotary laser CONDTROL Roto HR represents a new generation of laser instruments that can lift up the quality of work to a higher level and optimize material and labor resources.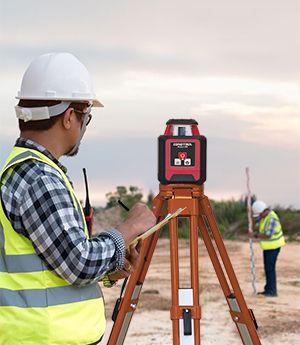 Delivery package: Rotary laser – 1 pc. Universal mount – 1pc. Charger – 1 pc. Laser receiver – 1 pc. Mount for laser receiver – 1 pc. Laser intensive glasses – 1 pc. Magnetic target board – 1 pc. User manual – 1 pc. Plastic case – 1 pc.
Specifications:
Working Range/with receiver

500 m

Leveling accuracy

30" (±0,15 mm/m)

Self-leveling range

±5°

Battery life

35h

IP protection rate

IP55

Thread for mounting on a tripod

5/8"
Laser

Class II 630-685 nm < 1 mW

Battery

2 x 4000mah Li-ion 7,4V rechargeable battery

Operating temperature

20°C ~ +50°C

Storage temperature

20°C ~ +50°C

Dimensions

150 X 128 X 161 mm

Weight

1,5 kg